Internships for entrepreneurs abroad
12.05.2014
The National Chamber of Entrepreneurs and the Center for International Programs JSC have launched a program under which candidates are provided with internships abroad at leading enterprises in the United States, Germany, Korea and other countries, Palata.kz reports. According to the organizers, an internship abroad is provided for specialists from the fields of energy, construction, media, medicine, agriculture and other sectors of the economy.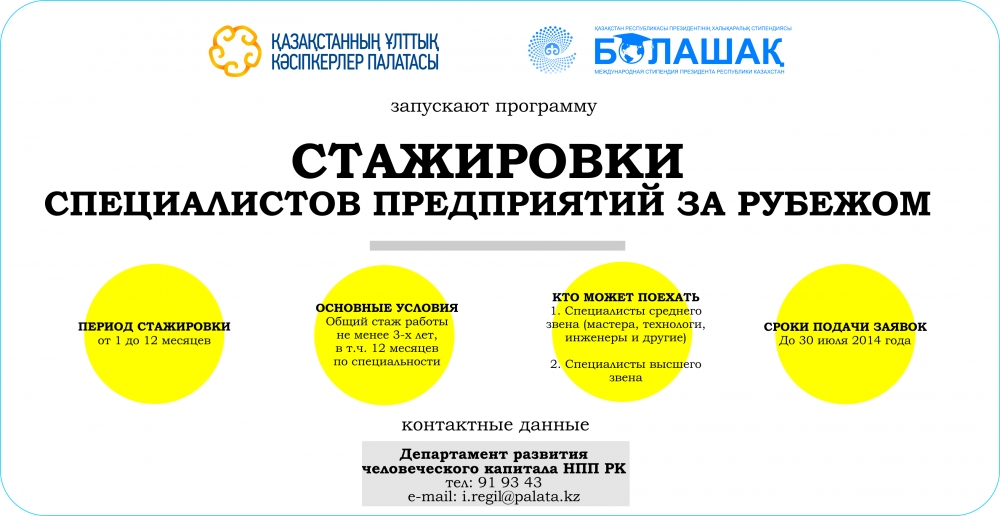 Applicants must have at least three years of work experience. From this period, at least a year, the applicant must work as a middle manager and as an engineering and technical worker. In order to receive an internship abroad at Bolashak, candidates will have to submit, among other documents, an employer's application for training a specialist with the condition of maintaining a job, and the host party – an invitation.
Applicants must pass a competition for knowledge of a foreign language and a test for knowledge of the state – Kaztest. They also undergo an interview with members of an independent expert commission, which checks the applicants' knowledge of the Constitution of the Republic of Kazakhstan, the history of Kazakhstan, state symbols, as well as the level of professional training of the applicant. The final decision on whether an internship abroad will be provided is made by the Republican Commission for Training Personnel Abroad.